Quattro Lnb
Quattro Ku Band Lnb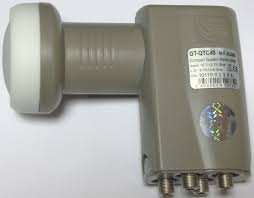 Specification
Quattro Lnb ARLI OR OPTICUM
Input Frequency Range:
10.70 – 11.70 GHz
11.70 – 12.75 GHz
Output Frequency Range:
950-1950 MHz
1100-2150 MHz
Number of out 4 – VL, VH, HL, HH
LO Frequency 9.75/10.60 GHz
Feed Diameter – 40mm
Noise Figure – 0.1dB
Operation Temperature: -30C UP TO 70C
The quattro LNB provides four outputs, each with a single band/polarization specific to that output.
The band/polarization available at each output is fixed at the time of manufacture. It is not possible to switch the band/polarization with a tone or switching voltage.
A quattro LNB is normally used to feed a large distribution system. A single dish with a quattro LNB fitted and a multiswitch (or IRS) is able to feed anything between 4 and 100 locations.
The multiswitch (or IRS) is able to provide any of the input signals at each output, depending on a tone/voltage sent up the cable by the receiver at each location. It's as though the receiver at each location has it's own dedicated LNB.
The outputs on a multiswitch (or IRS) are able to be controlled with a 22Hz tone and switching voltages in the same way that the outputs from normal universal LNB can be, i.e. to change band and polarisation.
The satellite receivers in each of the locations behave as though they are connected to their own dedicated dish and LNB, but in reality are just connected to a multiswitch (or IRS) output.
Quattro LNBs are considered to have a better lifetime than quad LNBs as they are not being continually switched.