PowerCam Pro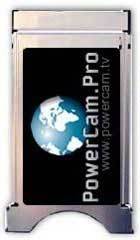 PowerCam Pro Cam Module accepts official cards scrambled in : Viaccess, Mediaguard, Irdeto, Conax, Betacrypt and Cryptoworks
Menus in English, French, Spanish & Arabic. SMS and MAIL functions (available on the next upgrade by Satellite)
Application
CAS System compatible with :
Conax
CryptoWorks
Irdeto 1+2
Seca 1+2
Viaccess 1+2
Betacrypt
CA Ids Supported : (0B00 0B01 0B02, 04AA0 4AA1), (0100 0500),(0600 0601 0602 603 0604 0606 0608 0614 0619 0620 0622 0624 0626 0628 0668), (0D00 0D01 0D02 0D03 0D04 0D05 0D06 0D07
0D08 0D22 0D70 0D0C 0D0F), (01702 01722 01762)
Professional application:
PowerCam Pro module works with:
multiplexer OT Streamline, Streamline streamer IPTV OS, OV 75M panel, the panel OH 88H, commercial satellite receivers CI, Humax, Topfield, Feguson, Golden Interstar,
PowerCam Pro module is used in digital CATV headends, IPTV distribution systems, hotel TV systems, etc, because the ability to simultaneously decode multiple programs (even the transponder) allows for significant savings in the quantity of satellite decoders. This reduces the amount of equipment used in digital headends.
PowerCam Pro provides access to a full transponder by using a professional card.
Descramble capacity: 8 to 12 TV Channels per module.
PowerCam Pro supports multidescrambling able to simultaneously descramble all transponder content on the professional CATV and IPTV
Simultaneous decoding of multiple programs
Its good Product for IPTV FULL tp Streaming in IRD
PowerCamPro Cam Supports multiple coding systems
Its perfectly working in iptv stream with Ird.
PowerCam Pro Cam is able to descramble up to 64 simultaneous PIDs. It is able to filter 64 PIDs (32 filters can be applied to one PID).
PowerCam Pro Cam is designed to meet worldwide DVB standards.